2015 Swayfield and Corby Glen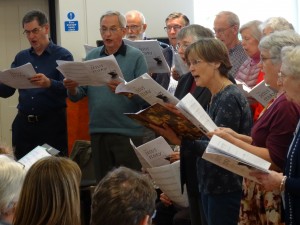 The first performance of The Jesus Story musical was held at Swayfield Village Hall on Friday April 17, 2015. The second was held at Corby Glen Church Street Rooms on Sunday Spril 19, 2015.
A choir of over 20 sang the story, accompanied by a band of keyboard, drums and two guitars. The conductor was Janet Roberts who did an excellent job of keeping the music harmonious! A narration linked the songs.
Both halls were filled to capacity and the audiences joined in with two of the songs, with gusto. The following letter of appreciation sums up the response:
The Jesus Story – brilliant! Wasn't sure what to expect, but was totally surprised and inspired by the very professional, enjoyable, simplicity of the presentation.

The orchestra was superb and the choir exceptional – such beautiful music and I could hear every word.

As you said – it is a gift from God – has to be, to send one away feeling so elated and joyful. Thank you – it must be heard again and again – it deserves such recognition. Please convey my thanks to all concerned – so very much appreciated.

2016 Harrowby Lane Methodist Church in Grantham and Edenham Village Hall

WOW!!!! What an incredible treat! A really uplifting experience…  These were comments received after the latest performance of The Jesus Story Musical, written by Revd Richard Rice-Oxley.  First performed last year by a local choir, the Musical has been very warmly received and money raised for local churches, this year in Harrowby Lane Methodist Church, Grantham, and Edenham Church.  Around 100 people came and enthusiastically joined in two rousing choruses.  As the Vicar of Edenham said, The Jesus Story was a fitting beginning for Holy Week.

The Jesus Story Musical is suitable for local choirs and schools to perform.  Later this year we plan to make the full score available.  In the meantime information is on our website rev-rice-oxley.uk.  The next performance will be at Morton Church on Saturday June 25th.